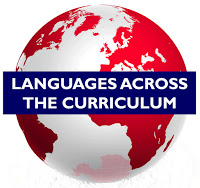 Languages Across the Curriculum (LAC) is a curricular enrichment program that provides students with the opportunity to use their skills in languages other than English in non-language courses. It aims to infuse foreign language across the curriculum, thus building on the skills of language proficient students in courses where authentic foreign language sources are not a regular component of the curriculum but would complement the course material. Students can extend their knowledge of a second language beyond foreign language courses and apply those skills to course materials, research, and projects in non-language disciplines. In addition, the inclusion of authentic course-relevant source materials in another language enriches course perspectives and prepares students more fully for the cross-cultural and multilingual demands of a global society.
Students at TCNJ may enroll in LAC 391/Languages Across the Curriculum, an independent study linked to a course in another field. The LAC independent study is directly related to an existing course in English but grants an additional credit for work conducted in a second language that supports and enhances the focus of the original course. A student enrolled in a history, political science, international business or sociology course that examines a topic amenable to research in another language or course-related activities in a second language could enroll in an independent study linked to that course. The expectations for the LAC independent study are specified by the course instructor in conjunction with the LAC director, who provides support and supervises student progress throughout the semester.
Activities that lend themselves to LAC projects may include (but are not limited to):
Conducting course-related research for papers and projects by accessing and incorporating authentic materials in a second language.
Supplemental course readings in the original language.
Oral presentations (in English) based on foreign language sources not available to other class members.
Submission of written work in the target language (where the course professor is able to evaluate this work).
Community-based work with local foreign language populations.
Students must have *at least* an intermediate level of proficiency in the language in order to successfully complete a LAC component. In general, this means students who have completed two, 200-level courses in the target language, or are a heritage speaker who can demonstrate similar proficiency. Students who are unsure of their proficiency level should contact the LAC Director at lac@tcnj.edu.
LAC has been embraced by a number of academic institutions nationwide and is a readily identifiable means to indicate a student's ability to engage in multilingual learning in preparation for the workplace and graduate study. LAC has been successfully instituted at TCNJ, yielding exciting projects and rewarding results.
For further information, please contact the LAC Program Director at lac@tcnj.edu.