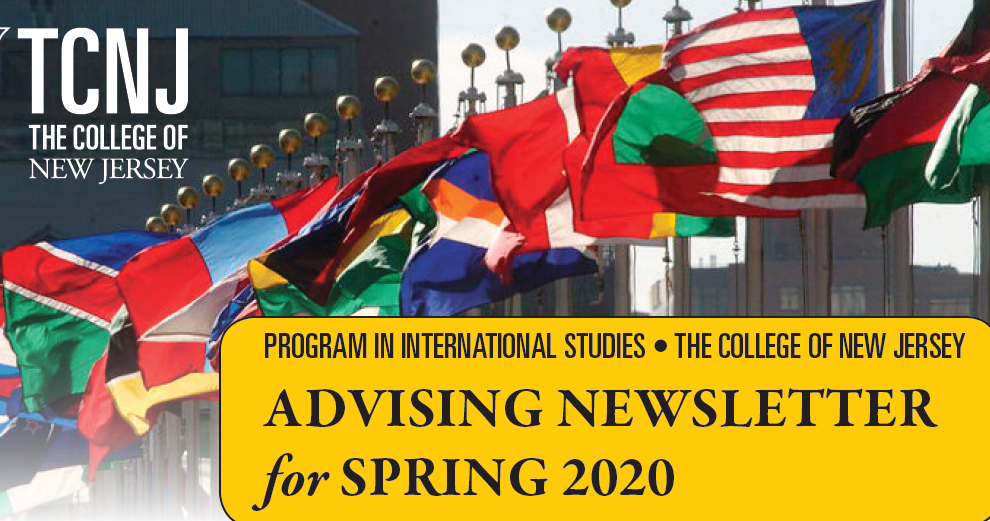 Spring 2020 Advising Newsletter
ACADEMIC ADVISOR
Students should plan to meet with faculty advisors before registering. If you are unsure who your advisor is, please open your student account in PAWS and check the right-hand column under ADVISOR. If you have not been assigned an International Studies faculty advisor, please contact Dr. Toloudis.
ACADEMIC HOLDS
All students in the School of Humanities and Social Sciences who are on academic probation (i.e., a cumulative grade point average below 2.0) or are first-year transfer students will receive an Academic Advising hold that can only be lifted by your advisor.  You will not be able to register for classes until the hold has been removed.
To remove the hold, you must schedule an appointment with your advisor prior to your enrollment appointment to discuss your schedule.  After the meeting, your advisor will remove the hold for you.
PRIOR TO REGISTERING FOR NEXT SEMESTER
If you would like registration advice, please schedule a meeting with your assigned advisor or Dr. Nicholas Toloudis. Prior to the meeting:
print and bring with you your PAWS Academic Requirements report
look at the requirements in the Undergraduate Bulletin
write a draft schedule for the semester
select several courses and add them to your shopping cars on PAWS
HOW DO I PRINT MY TRANSCRIPT AND ACADEMIC REQUIREMENTS? 
ADVISING MATERIALS
Spring 2020 Advising Newsletter