DISCOVER A WORLD OF OPPORTUNITY THROUGH INTERNATIONAL STUDIES 
Our program opens doors to the world. Our students explore the interwoven nature of globalization while connecting with their own potential to contribute to the world community.
TCNJ's International Studies curriculum integrates coursework across the liberal arts with the complementary requirements of study abroad and foreign language study.
Learning, speaking, and traveling as a world citizen readies you to step beyond the domestic to the global stage of any career sector, from business and diplomacy to health and education. 
Our graduates find employment in the public and private sector, while others have received competitive post-graduate fellowships, including Fulbright, Pickering, and Boren. Roughly half of International Studies graduates continue their education in law or graduate programs. Another quarter work in public service, for the US government, for foreign embassies, or for non-governmental organizations. The final quarter work in the private sector, typically for firms with an international focus.
TCNJ International Studies recent graduate placements include Johns Hopkins University's School of Advanced International Studies, Brandeis University (Joint Master of Arts in Anthropology and Women's, Gender and Sexuality Studies), Georgetown University (M.A. in Security Studies), London School of Economics (Double Degree with Peking University: MSc Environment and Development), Columbia University, Harvard University Law School, New York University, Princeton University, Rutgers University, Syracuse University, and University of Pennsylvania. Click here to read Alumni Profiles.
GLOBALLY VALUED ASSET
Being wise to the world adds depth to your resume and expands your worth to employers and graduate schools.
MAJOR REQUIREMENTS
Twelve total course units are required for the International Studies major. Each student completes 5 courses as part of the major core and 7 courses in an area of specialization. The courses for the specializations are drawn from across the Humanities and Social Sciences as well as the School of Business. Only 1 course at the 100-level may be counted toward a specialization.
The major's Core Requirements include:
INT 200: International Studies – Processes, Themes, and Issues with a B- or higher
ECO 102: Principles of Macroeconomics
INT 498: Senior Seminar
2 units of a World Language at the 200-level or above, relevant to the chosen specialization, with an average of B- or higher in both classes.
In addition to the Core Requirements, International Studies majors must also take:
one course unit in each of the following five areas:

economics/international business
history
political science
social sciences
humanities

two course units of electives
As part of the liberal learning requirements, it is recommended that students take microeconomics and statistics. These requirements differ slightly for the concentration in International Economics and Trade, which mandates two courses in economics/international business, two courses in humanities, and one related elective.
Elective courses in the major must have an international focus, complement the student's interest within the major and receive prior approval by an International Studies advisor.  Students are also encouraged to pursue an internship with an international focus.
SPECIALIZATIONS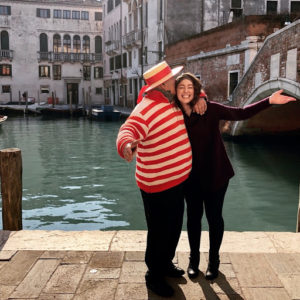 All International Studies majors need to choose a specialization from among nine. Specializations are offered in six geographic areas: Europe, Latin America and the Caribbean, the Middle East, Asia, China, and Africa and three functional subjects: diplomacy, international economics and trade, and global health, development, and environment.  Course requirements differ by concentration; please click the link for each specialization for a list of requirements. The related electives and the study abroad experience should be relevant to the concentration chosen.
If you do not have a specialization listed in PAWS, you need to fill out a Specialization Declaration Form. These are also available outside the main office, SSB 219. Please fill out this form and submit it to Dr. Zakiya Adair, IS Program Director. If you have any questions about which specialization to choose, please set up a meeting with your advisor.
STUDY ABROAD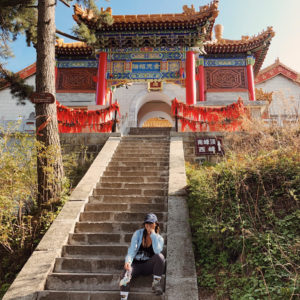 Fully 100% of our majors study, intern, or serve others through study abroad in dozens of countries.
International Studies students are required to demonstrate at least one semester of successful academic achievement in a foreign university relevant to their field of study. A full year of study abroad is encouraged. Successful study abroad is defined as passing at least three classes for a minimum of 2.25 TCNJ units.
It is essential that you plan this in advance, in order to ensure that you are taking the correct courses and select a study abroad program that is well suited to your studies. In planning your study abroad experience, be sure to consider programs/countries that complement your overall program of study. If you are studying French, for example, consider sites where you can work on your language skills. If you are interested in international development, consider programs that have a special strength in this area. Avoid selecting a study abroad program just because you really want to visit a country. Think of how your choice fits within your broader program of study. Consult your International Studies advisor and TCNJ's Arlotto Family Center for Global Engagement for the most suitable site and program.
Please ask early for letters of recommendation.
Dr. Zakiya Adair
can assist with filling out your Academic Evaluation form, found on the A. Family Center for Global Engagement's application portal. Please bring printed descriptions of the course(s) you want to take while abroad.