A TCNJ International Studies degree provides students with the practical skills, insights, and experience that make them highly attractive to prospective employers and top law or graduate programs. Explore our alumni reflections to see what they've learned and where their degree has taken them. 
Eric Sawyer, TCNJ '16, International Studies & Marketing Double-Major, International Trade and Economics Concentration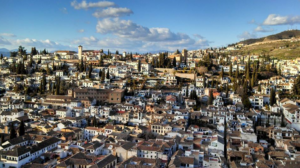 I studied abroad in Granada for a semester during my sophomore year and absolutely loved it. Granada is a beautiful small city in southern Spain. It's best known for the Alhambra, a historic and majestic Moorish palace on a hill that overlooks the white-washed old city. Living there for four months gave me a great opportunity to experience traditional Spanish culture in a small city, and get to know Granada beyond this one remarkable site.
"Studying abroad was a lot of fun, but more importantly,
it brought my international studies major to life."
While I had a solid foundation in Spanish from my classes at TCNJ, living abroad forced me to improve my skills. Everyday tasks like going food shopping, asking for directions, and speaking with my host mom about how our days went all took place in Spanish — out of necessity! I also took Spanish courses at the Centro de Lenguas Modernas at the city's university, which helped my language skills even more. I even dreamed in Spanish towards the end of my trip, which I never expected.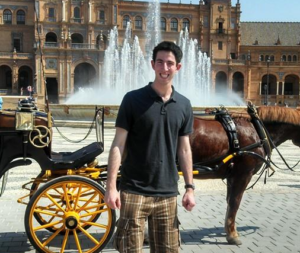 Studying abroad also gave me a great opportunity to travel. I visited other cities in Spain, as well as Gibraltar, France, England, and Morocco twice. My favorite memory from these trips was spending two nights in the Sahara Desert, which was humbling. Two of my TCNJ friends were studying abroad in different cities during the same time as me, and we traveled to meet up with each other a couple of times. I also made great personal connections on this trip with my classmates in the study abroad program. They were from all over the US, and we bonded over our classes, searching for the best tapas in town, supporting the local soccer team, and swapping stories.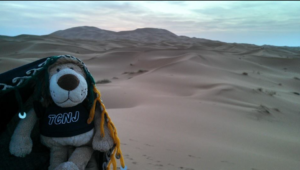 Studying abroad was a lot of fun, but more importantly, it brought my international studies major to life. Traveling to new places, improving my language skills, and getting exposure to new ways of life gave me a deeper appreciation for my coursework. It's one thing to read about significant international events in a textbook — it's another thing to picture yourself walking down those very streets and putting yourself in the mindset of a local living through them. Studying abroad helps you do just that.
Kristi Marciano, TCNJ '15: International Studies Major, European Politics Concentration
As someone with myriad academic interests and passions, I knew my major at TCNJ needed to be rooted in interdisciplinary, intersected, and diverse fields. International studies was the perfect fit for this. While my concentration was in European studies, I gained invaluable knowledge in areas across the social sciences; from history to political theory to becoming fluent in a second language, I not only gained practical skills with my bachelor's degree, but a heightened awareness of the world around me and my place within it.
"I discovered my passion for global environmental health
through the work of some of my classmates."
The most rewarding part of being a part of the International Studies Program, however, was interacting with my peers and professors. In a small and intimate program such as International Studies, each student is free to explore what topics engage them the most, cultivating an environment where the exchange of ideas, questions, and theories is free flowing, open, and constantly evolving. For me, I discovered my passion for global environmental health through the work of some of my classmates, and that has ultimately led me to pursue my Master of Arts in Science Writing from Johns Hopkins University. The bond between international studies and science writing has never been clearer. Science and politics permeate society. Political action and international governmental cooperation are tantamount to tackling the global climate emergency as it escalates at a distressingly rapid pace. With the background I gained from my mentors and peers in the International Studies Program, my ability to elevate the importance between science and politics is a major advantage to my writing.
Mary Jane Dempsey, TCNJ '13, History and International Studies Double-Major, Diplomacy Concentration, Italian Minor and Honors Program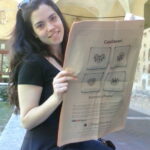 I decided to add an International Studies major after hearing other friends talk about their experiences in the program. As they described their studies of history, politics, economics, and language culminating in a study abroad experience, I found myself drawn to the interdisciplinary nature of the degree. I wasn't sure what I wanted to do after graduation, but I was keen to tap into my various interests.
The most rewarding experience of my studies was working with Professor Simona Wright. She encouraged me to explore my interests and supported my desire to study abroad in Italy. In fact, I managed to organize two study experiences during my time at TCNJ. In the Summer 2011, I took an intensive language course in Siena, where I started to grow more interested in questions around histories of migration and gender. For this reason, I decided to return to Italy by studying abroad in Bologna, Italy, where I conducted a research project on Second Generation Italians and citizenship laws. This project gained national recognition as I earned the Undergraduate Research Award from the Forum on Education Abroad. I also received the Senior Research Award for International Studies Thesis for my Honors Thesis project in which I continued to pursue questions about migration policies and political reactions in Italy. The methodologies and epistemologies I developed in organizing this project continue to orient my current doctoral work.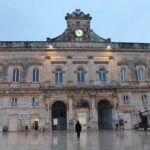 After graduation, I returned to Bologna, working for the study abroad program I had previously attended. My time at SHC Italy Center offered me the rare chance to perfect my Italian skills, to learn more about international education and to cement my research interests before applying for my Masters. In fact, I continued to pursue research in Italian cultural history and migration through my MSc degree in History of International Relations at the London School of Economics and Political Science in London, England.
"I thoroughly endorse the International Studies major,

which offers students a critical toolbox to think on a more global scale."
Between my Masters and PhD programs, I taught history and language courses at various institutions. I am currently conducting my PhD in Romance Studies at Cornell University, where I am writing a dissertation that looks at how various histories of migration inform and challenge what it means to belong in contemporary Italy. I write this from Rome, where I am a recipient of the 2022 Rome Prize in Modern Italian Studies at the American Academy in Rome.
I am grateful for the intellectual pursuits I conducted both in Ewing and in Italy through TCNJ's International Studies program. Simona Wright's mentorship was particularly instrumental in my becoming fluent in Italian, in my ability to organize and conduct academically rigorous research projects and in my multidisciplinary approach to scholarship. Thank you for everyone's support and I thoroughly endorse the International Studies major, which offers students a critical toolbox to think on a more global scale.