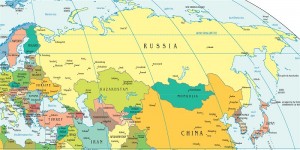 This interdisciplinary area studies minor within the international studies program seeks to offer students a broad background in the languages, history, politics, and cultures of Central Eurasia. It draws on the existing strengths of a number of departments and faculty members at The College of New Jersey.
Requirements:
Two of the following course units:
HIS  341: Islamic History from Muhammed to the Ottomans
HIS  344: Commodities, Commerce and Exchange of Ideas
HIS  345: Mystics, Merchants and Monarchs in Early Modern Central Eurasia
HIS  346: Modern Central Asia
HIS  349: The Soviet Union
The minor requires three additional course units such that the total of five courses are drawn from at least three disciplines, chosen by the student from the recommended list or by advisement.
Three of five courses must be at the 300 level or above.
Recommended Courses:
AAH  217/Arts of the Islamic World
AAH  315/Arts and Iran
ECO  345/Comparative Economic Systems
HIS  302/Hellenistic World
HIS  331/Silk and Religion
HIS  332/Topics in Eurasian and Middle Eastern History (with appropriate topic)
HIS  332/Topics/Pre-Islamic Imperial Iran
HIS  332/Topics/Islamic Mysticism and Shrines
HIS  342/Modern Middle East
HIS  347/Siberia
HIS  348/Imperial Russia, 1584-1917
HIS  454/Readings Seminar in History: Modern Eurasia
HIS  455/Readings Seminar in History: Early Eurasia
HON  230/Islam in Comparative Perspective
POL  250/Politics and Society in Developing Countries
POL  352/Comparative Politics of Development
POL  357/Middle East Politics
POL  380/International Political Economy
POL  390/Tutorial in Political Science (with appropriate topic)
REL  113/Islam and Islamic Thought
Faculty Advisor: Dr. Deborah Hutton